Series 1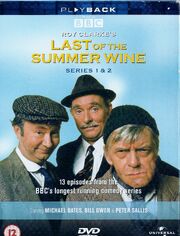 Last of the Summer Wine's first series originally aired on BBC One between 12 November 1973 and 17 December 1973.[1] All episodes from this series were written by Roy Clarke and produced and directed by James Gilbert.[2]
The pilot episode, alternately known as "The Last of the Summer Wine" and "Of Funerals and Fish," originally premiered on the BBC's Comedy Playhouse on 4 January 1973 at 8:00 p.m. "The Last of the Summer Wine" was the first episode of that show's fourteenth series.[3] The pilot warranted a positive enough that the BBC ordered a full series of episodes which premiered on 12 November 1973.[4]
The first series was released on DVD in region 2 as a combined box set with series 2 on 2 September 2002.
All items (6)