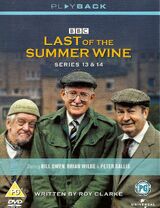 Series 13
The Last of the Summer Wines thirteenth series aired on BBC One. All of the episodes were written by Roy Clarke and produced and directed by Alan J. W. Bell.
Notably, this series of the show was shot entirely on videotape. Prior to this, the show had used videotape for studio scenes and film for location footage. From the following series until 2004, the show moved to being shot entirely on film.
All items (6)
Community content is available under
CC-BY-SA
unless otherwise noted.