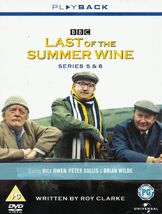 Series 5
Last of the Summer Wine's fifth series originally aired on BBC One between 18 September 1979 and 30 October 1979.[1] All episodes from this series were written by Roy Clarke and produced and directed by Sydney Lotterby.[2]
The fifth series was something of a departure; it was the first to include two-part episodes and introduced a small number of new characters such as Compo's oft-mentioned but never seen nephew and was also notable for an increase in the more physical comedy for which the programme would become more well-known latterly.
The fifth series was released on DVD in region 2 as a combined box set with series 6 on 5 March 2007.
All items (7)