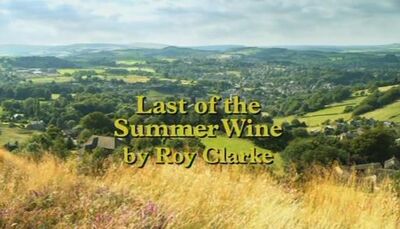 Welcome to the Wiki
Edit
Welcome to the wiki. We're a collaborative community website about your topic that anyone, including you, can edit. Click the edit button at the top of any page to get started!
Describe your topic
Edit
Last of the Summer Wine focused on a trio of older men and their youthful antics. The original trio consisted of Compo Simmonite, Norman Clegg and Cyril Blamire. Blamire left in 1976, when Michael Bates fell ill shortly before filming of the third series, requiring Clarke to hastily rewrite the series with a new third man. The third member of the trio would be recast four times over the next three decades: Foggy Dewhurst in 1976,[71] Seymour Utterthwaite in 1986,[72] Foggy again in 1990,[73] and Truly Truelove in 1997.[74] After Compo died in 2000, Compo's son, Tom Simmonite, filled the gap for the rest of that series,[75] and Billy Hardcastle joined the cast as the third lead character in 2001.[76] The trio became a quartet between 2003 and 2006 when Alvin Smedley moved in next-door to Nora Batty,[56] but returned to the usual threesome in 2006 when Billy Hardcastle left the show.[77] The role of supporting character Entwistle steadily grew on the show until the beginning of the 30th series, when he and Alvin were recruited by Hobbo Hobdyke, a former milkman with ties to MI5, to form a new trio of volunteers who respond to any emergency.[38]
The trio explored the world around them, experiencing a second childhood with no wives, jobs or responsibilities. They passed the time by speculating about their fellow townspeople and testing inventions.[78] Regular subplots in the first decade of the show included: Sid and Ivy bickering over the management of the café,[79] Mr Wainwright and Mrs Partridge having a secret love affair that everyone knows about,[42] Wally trying to get away from Nora's watchful eye,[80] Foggy's exaggerated war stories,[81] and Compo's schemes to win the affections of Nora Batty.[82]
The number of subplots on the show grew as more cast members were added. Regular subplots since the 1980s included: Howard and Marina trying to have an affair without Howard's wife finding out (a variation of the Wainwright-Partridge subplot of the 1970s),[42] the older women meeting for tea and discussing their theories about men and life,[83] Auntie Wainwright trying to sell unwanted merchandise to unsuspecting customers,[84] Smiler trying to find a woman,[85] Barry trying to better himself (at the insistence of Glenda),[86] and Tom trying to stay one step ahead of the repo man.[87]
Latest activity
Edit